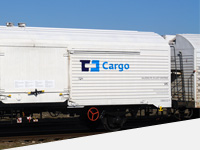 ČD Cargo Plus
ČD Cargo, a. s. provides a comprehensive transport provision of goods with guaranteed supply period titled ČD Cargo Plus.
Our advantages:
Simple ordering of the transport service includes also the services of collection/delivery including loading to/from the wagon upon request via the portal ČD Cargo,a.s. It is sufficient just to register in the registration form, and you can place an order.
The completion of all records will be provided by ČD Cargo,a.s. based on the data from the order.
The communication between you and the transport provider will be made electronically via portal ČD Cargo,a.s.. If direct communication is more acceptable for you, you can contact the product manager of ČD Cargo Plus offer.
ČD Cargo Plus will save your time, simplify the method of the transport service order within maximum scope, and guarantee the total price for the transport service including the guarantee of compliance with specified delivery period. We actually offer the service in the stations below, during the next phase we assume the service extension based on your interest.


Brno - Maloměřice
Brno - Slatina
Cheb
Karlovy Vary
Kolín
Lovosice
Mělník
Olomouc hl.n.
Ostrava hl.n.
Pardubice hl.n.
Středokluky
Praha - Libeň
Ústí nad Labem západ
Zlín střed

The detailed terms of the offer ČD Cargo Plus.
Do not hesitate to also contact us by phone: (+420) 724 892 107 or e-mail at info@cdcargo.cz.
---
| | |
| --- | --- |
| | Infoline |
+420 972 242 255
info@cdcargo.cz
monday - friday
8.00 - 16.00 hour
---

Customers
service centre
monday - friday
7.00 - 18.00 hour