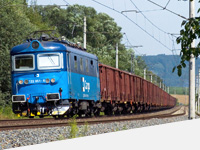 Replaceable simple EURO-palettes
The basic element of this offer is the transport of goods on replaceable simple EURO-palettes (dimensions 800 x 1200 mm) and return of empty palettes into the agreed exchange station.
For the use of EURO-palettes in railway transport, ČD Cargo and the forwarders have created a palette society which enable the palette replacement in domestic and international transport based on concluded "Agreements on mutual replacement of replaceable simple EURO-palettes". The result includes the simplification of loading handling of the goods, the transport of goods without the necessity of the customer to provide return transport of EURO palettes. The agreement is made with the forwarder at the level of the Operating unit of ČD Cargo, with regional authority for the delivery loading station on the replaceable palettes.
The transport conditions for goods on EURO-palettes
The conditions for transporting goods on EURO-palettes are published by Decree PTV, which includes all detailed provisions related to the documents which bind the forwarder to handover the palettes after unloading into the exchange station, the time intervals for the return and handover of EURO-palettes, sums for releasing or failure to return EURO-palettes, records in the loading sheets, procedure during the settleme nt of differences between the records in the bills of lading and the real states of the palettes, the list of exchange stations, the list of exchange stations of ČD Cargo, and other matters related with the system of EURO-palette return.
The exchange palettes must comply with international standards and their production is permitted solely to certified manufacturers. The list of the companies authorized to produce and repair EURO palettes is specified at address www.zzv-eur.cz, based on license. On this address it is possible to receive information for the production of EURO-palettes.
Podmínky pro přepravu zboží na výměných prostých EUR paletách Příloha F3_2005
---
| | |
| --- | --- |
| | Infoline |
+420 972 242 255
info@cdcargo.cz
monday - friday
8.00 - 16.00 hour
---

Customers
service centre
monday - friday
7.00 - 18.00 hour