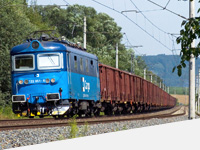 Back
Tarif ČD Cargo, a.s. na rok 2018
ČD Cargo, a.s. vydává s účinností od 01.01.2018 Tarif ČD Cargo, a.s. (TVZ).
Tarif ČD Cargo, a.s. je přístupný pro registrované zákazníky a je umístěn na internetové adrese www.cdcargo.cz/Čím se řídíme/Tarify.
Ve vydání Tarifu ČD Cargo, a.s. na rok 2018 došlo k určitým úpravám hodnot v tabulkách dovozného a v souladu s cenovým vývojem byly upraveny hodnoty některých poplatků doplňujících. Zároveň byl celkový text Tarifu přizpůsoben dynamickému vývoji v oblasti nákladní přepravy.
Tarif ČD Cargo, a.s. účinný od 01.01.2017 č.j. 1519/2016-O7/2 zveřejněný dne 14.11.2016 se tímto sdělením ruší k datu 31.12.2017.
---
| | |
| --- | --- |
| | Infoline |
+420 972 242 255
info@cdcargo.cz
monday - friday
8.00 - 16.00 hour
---

Customers
service centre
monday - friday
7.00 - 18.00 hour
ČD Cargo
It offers the transport of a wide array of goods ranging from raw materials to products with a high added value, transport of containers, special consignment, rental of railway wagons, railway siding services, and other transport services.