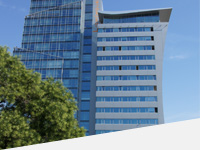 Notification of the infringement
Written notice of the existence of an infringement that could give rise to criminal liability of ČD Cargo, a.s. (e.g. corrupt practices), or the existence of reasonable suspicion of an infringement in ČD Cargo, a.s. can be sent:
electronically to the email address: or
in paper form to the address:


ČD Cargo, a.s.
Oddělení interního auditu (O17/1)
Jankovcova 1569/2c
170 00 Praha 7 – Holešovice
The purpose of these notifications is to increase the possibility for ČD Cargo, a.s. to be informed in due time about the possible suspicion of an infringement in ČD Cargo, a.s. and increasing the likelihood of detecting possible criminal behaviour, which will allow ČD Cargo, a.s. to immediately take reactive action, including avoiding or rectifying the damage.
All notifications are confidential. ČD Cargo, a.s. declares that it will not take any retaliatory action against the person making the notices.
The notifier must be aware of his responsibility, including criminal liability, especially for offenses of defamation in accordance with the provisions of Section 184 of the Criminal Code and of a criminal charge under Section 345 of the Criminal Code, when making the notification. Notifications must not be misused with the intent to harm others.
---
| | |
| --- | --- |
| | Infoline |
+420 972 242 255
info@cdcargo.cz
monday - friday
8.00 - 16.00 hour
---

Customers
service centre
monday - friday
7.00 - 18.00 hour