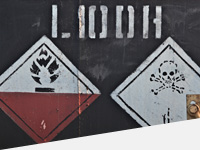 Dangerous Goods
Transport of dangerous goods is one of priorities of the railway transport provided by the joint stock company ČD Cargo. The transport of such items is performed according to the conditions of the International Rule for Transport of Dangerous Substances by Railway (RID) and Government Directive no. 1/2000 Coll. on the transport policy of public railway freight transport.
Transition period - RID 2015
On 1st January 2017 the changes from RID 2017 enter into force. The valid version of RID 2017 is available on the web page of OTIF.
Unless stated otherwise, the dangerous goods can be transported from 1st January 2017 to 30th June 2017 under the conditions of RID 2015. At these transports it is necessary to keep records on a specific statement in the transport documentation according to 5.4.1.1.12 RID:
"Transport in accordance with RID that was valid before 1st January 2017."
In case of international transportation, the specific statements should be completed also by its language version:
"Beförderung nach dem vor dem 1. Januar 2017 geltenden RID" or
"Carriage in accordance with RID in force before 1st January 2017" or
"Transport selon le RID applicable avant le 1et Janvier 2017".
When transporting dangerous goods, fulfilling the requirements of RID 2017, the above-mentioned statement should not be used!
RID 2017 in the Czech language enters into force on the day of its publishing by the Ministry of Transportation of the Czech Republic in the Collection of International Contracts.
Safety advisors
Each company with the activities including the transport of dangerous goods on the railway or related with such transport (packaging, loading, filling or unloading of dangerous goods) must appoint one or more safety advisors. They are responsible for the help during the risk prevention during the activities considering the persons, property, and environment. Safety advisors have certification on professional eligibility of the safety advisor for transporting dangerous goods for the railway freight transport issued by the Ministry of Transport of the Czech Republic, department of railways, combined, and railway transport.
Inspections of dangerous goods
ČD Cargo, a.s. provides the transport and inspections of dangerous goods according to the Decree UIC 471-3. Decree UIC 471-3 specifies to the forwarders the obligations resulting from the provision in clause 1.4.2.2.1 RID, with the aim to maintain quality of transport and inspection at permanently high level. The quality assurance system during the transport of dangerous goods in cooperation is applied by 41 railway companies in Europe.
Contact
---
| | |
| --- | --- |
| | Infoline |
+420 972 242 255
info@cdcargo.cz
monday - friday
8.00 - 16.00 hour
---

Customers
service centre
monday - friday
7.00 - 18.00 hour