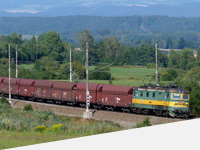 Individual deliveries
The freight transport by individual wagons is a suitable solution for the customer who requires the preparation of smaller volume of goods. The transport of the wagon deliveries utilizes one wagon or a group of railway wagons (maximum of five). The wagons are transported from the dispatcher to the recipient using a common train-formation route.
It means they are sequenced gradually on their way in several trains in a row. They are commonly collected from the dispatcher by a local (i.e. handling) train to the nearest shunting yard. They are further dispatched by long distance train (i.e. running, potentially freight express) into the closest shunting station to the recipient, and then delivered by local train.
ČD Cargo is the only transport provider to offer this type of transport in the Czech Republic and in the whole network of SŽDC, and also on the railways of other private companies, and in cooperation with the foreign partners, also in a great part of European railway network.
Complete trains
The complete trains represent the most suitable method of transport for large volume deliveries. They are shunted from the wagons transporting only one delivery, and they are transported directly from the dispatcher to the recipient without any shunting works. The delivery travel period is significantly reduced, and due to simplified handling, the transport by complete trains is significantly more beneficial in price.
The only condition for using this form of transport is sufficient volume of the delivery which fills the complete train. The complete train can comprise also of several groups of wagons from the dispatchers to one recipient or vice versa, from one dispatcher to more recipients. In cooperation with the foreign state and private partners, ČD Cargo is able to organize transport of the complete train in Europe, including the reloading to broad gauge in former Soviet Union countries.
---
| | |
| --- | --- |
| | Infoline |
+420 972 242 255
info@cdcargo.cz
monday - friday
8.00 - 16.00 hour
---

Customers
service centre
monday - friday
7.00 - 18.00 hour