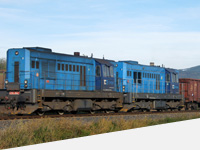 Transport restriction and suspension (ZAN)
The transport restriction and suspension or loading of wagon loads (ZAN) are announced upon the following facts:
measures issued by the rail administration authority;
measures issued by the administrative authorities entitled to take decisions in the veterinary, phytosanitary, sanitary services, waste management or under an international contract to which the Czech Republic is bound and which was published in the in the Collection of Laws;
unsuitability of the track due to natural disasters, strikes, accidents or reconstruction of the track;
unforeseen interference with the operational capability of the track;
accumulation of transported vehicles or goods on a siding;
accumulation of vehicles or consignments on the track;
at the request of the customer;
poor payment behavior of the customer towards the carrier.
ČD Cargo responds to these facts by issuing a ZAN document, which lists the various elements of the issued restrictions on services. If there is a ZAN announcement at the request of the customer, the issue of ZAN is charged according to the tariff for the transportation of wagon loads. The ZAN structure is described in SPP.
Contact