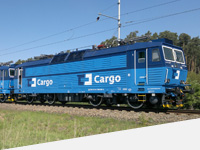 Clearance of block trains/wagon groups using a single transport document
national transport bill of lading, CIM, CIM/SMGS bill of lading or CUV wagon note

The transport of block trains or wagon groups with a single transport document has certain advantages for the customer. Grouped wagons cleared using a single transport document are all assigned to the same train, meaning that wagons are not split across different trains, such as in order to up the load to the standard train weight when leaving a border crossing or marshalling station.
All the tasks involved in handling transport documents, as well as the work on the part of the administrative authorities (police, customs, phytosanitary and veterinary inspections, etc.) are simpler and faster.
In National transport consent to the transport of a block train or wagon group on a single bill of lading must be discussed beforehand with the ČD Cargo sales manager in charge of the business transaction in question.
In international transport a block train or wagon group may, without prior discussion, be assigned for transport with a single transport document provided that it meets the weight and length limits for the individual border crossing stations on the transport route as stated in the conditions. If one of these conditions is not met (the train travels outside the territory covered by the document, is transported by other than the stated carriers or exceeds the designated weight and length limits), consent must be discussed with all the carriers involved. The customer (consignor, haulage contractor, haulage fee payer) always requests the carrier's consent at the point at which the consignment is received from the consignor using the attached application form. All issued consents are generally valid for one calendar year.
---
Conditions for the transport of block trains/wagon groups with a single transport document in international transport.
The applikation for consent to transport with a single transport document should be filled in and sent to ZAN@cdcargo.cz).
---
| | |
| --- | --- |
| | Infoline |
+420 972 242 255
info@cdcargo.cz
monday - friday
8.00 - 16.00 hour
---

Customers
service centre
monday - friday
7.00 - 18.00 hour