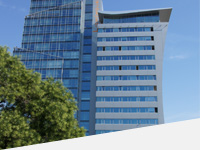 Visions and objectives
The strategic goal of the company ČD Cargo, a.s. is to keep the leading position in the railway cargo transport in the Czech Republic and in the Central European region whilst being an effective, pro-customer oriented company.
Basic objectives of the company ČD Cargo, a.s.
To expand the range of services, including the foreign sections and implementation not only for the railway service.
To use the expanded offer and to directly address it to new customers in a greater extent, to prefer multi-year contracts.
To expand the territorial scope - active entry into new markets and the strengthening of the role of ČD Cargo in international transportation. To utilize the potential of the company with a capital interest to expand to foreign countries.
To gain a carrier license in selected countries, including other necessary documents, in order to offer railway services for the infrastructure in foreign countries. To gradually increase the market shares in these countries.
To expand the segment of the inter-modal transportation using the terminal units with the property share of ČD Cargo.
To increase productivity and capacity and to make the operation and business activities more effective in general and thus strengthen the competitiveness of the company in the transport market.
To implement traffic and transport services in desired quality according to the requirements of the customers.
To expand the fleet of driving vehicles with new inter-operable locomotives capable of the operation in the European rail network.
To optimize the maintenance and repairs of driving vehicles and freight wagons.
By 2020, to stabilize the profitability of the main activity and of other business activities and to create a competitive company, whose production capacity - mainly its fleet, will reflect the current needs of the market.
To strive for setting a clear long-term transport policy of the state, including the rules for charging the rail and road infrastructure.
To optimize the operational activities leading to the effective use of operational resources and capacities in order to reduce the costs.
To focus on the development of the staff, to improve their professional and language skills, as well as to develop the cooperation with technically oriented vocational schools and colleges.
---
| | |
| --- | --- |
| | Infoline |
+420 972 242 255
info@cdcargo.cz
monday - friday
8.00 - 16.00 hour
---

Customers
service centre
monday - friday
7.00 - 18.00 hour