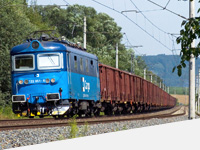 The warehouse Lovosice
The company ČD Cargo, a.s.: offers you modern storage facilities with an excellent connection o the motorway D8 (Prague 60 km) as well as to the international railway transit corridor (Slovakia – Prague – Lovosice – Dresden – Germany). Another advantage is the connection to the river harbor in Prosmyky at Lovosice.
The warehouse Lovosice (the Ústí Region) has a standard for the operation of logistics activities:
storage capacity: 42,000 m2
sertical clearance: 10 m
sloor loading capacity: 7.5 t/m2
25 gates with hydraulic bridges with a loading capacity of 6 t
entrance gate for trucks
railway siding leading directly into the hall (350 m)
The skylights in the roof ensure plenty of daylight. The hall is equipped with an electronic security system, there is Internet, telephone; electricity, water and gas. The hall is heated. The access to the premises is possible 24 hours a day, 24-hour security service, CCTV system.
The rental price will be provided upon request.
References:
Mondi (paper rolls)
Knauf Insulation Krupka (insulation materials for building industry)
Ewals/Bombardier Transportation (skeletons of railway vehicles)
Contact:
Petr Holešovský
ČD Cargo a.s.
+420 727 903 789
petr.holesovsky@cdcargo.cz
---
| | |
| --- | --- |
| | Infoline |
+420 972 242 255
info@cdcargo.cz
monday - friday
8.00 - 16.00 hour
---

Customers
service centre
monday - friday
7.00 - 18.00 hour