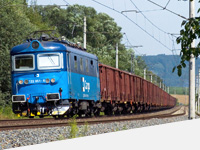 Back
Nové podmínky u přepravy nebezpečných věcí
Vážení zákazníci,
dovolujeme si vás upozornit na nové podmínky u přepravy nebezpečných věcí od 1.1.2017. Tímto dnem vstoupily v platnost změny uvedené v RID 2017. Platné znění RID 2017 je uvedeno na stránkách OTIF.
Pokud není stanoveno jinak, lze do 30.6.2017 (24:00 hod.) přepravovat nebezpečné věci za podmínek uvedených v RID 2015. U těchto přeprav je nezbytné uvést v přepravním dokladu zápis dle zvláštního ustanovení dle 5.4.1.1.12 RID:
"Přeprava podle RID, který platil před 1. lednem 2017".
V případě mezinárodní přepravy musí být zvláštní ustanovení doplněno také v jazykové mutaci:
"Beförderung nach dem vor dem 1. Januar 2017 geltenden RID" nebo
"Carriage in accordance with RID in force before 1 January 2017" nebo
"Transport selon le RID applicable avant le 1et Janvier 2017".
U přepravy nebezpečných věcí, splňujících již podmínky RID 2017, se výše uvedený zápis neuvede.
Poznámka:
RID 2017 v českém jazyce vstoupí v platnost pro Českou republiku dnem jeho uveřejnění ve Sbírce mezinárodních smluv, resp. zveřejněním na oficiálních stránkách Ministerstva dopravy ČR.
V případě nejasností kontaktujte bezpečnostního poradce ČD Cargo.
---
| | |
| --- | --- |
| | Infoline |
+420 972 242 255
info@cdcargo.cz
monday - friday
8.00 - 16.00 hour
---

Customers
service centre
monday - friday
7.00 - 18.00 hour
ČD Cargo
It offers the transport of a wide array of goods ranging from raw materials to products with a high added value, transport of containers, special consignment, rental of railway wagons, railway siding services, and other transport services.