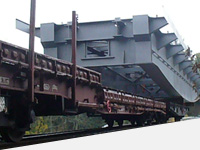 Exceptional deliveries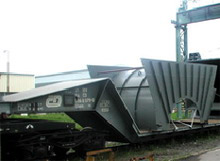 Exceptional deliveries on the railways are the deliveries which are especially complicated for any forwarder participating in the transport or some railway infrastructure company considering the railway equipment or the wagons; considering its exceptional dimensions, weight or specific features. Therefore they can be accepted for transport solely under special technical or operating conditions which must be pre-agreed between all railway companies participating in the transport.
It includes in particular the deliveries exceeding the loading gauge (PLM), the deliveries exceeding the specified railway class, the loads with security incompliant with the Loading Directives UIC, railway wagons on its own wheels which can be transported solely upon special operating conditions, etc. The working group PREMIZA has been designed to organized the exceptional deliveries, and it seeks the optimum options for the transport of the specified delivery on the railway, negotiates the transport of goods with the related transport providers, and closely cooperates with the group for exceptional deliveries of the sales department, Based on the materials received from the customer.
Suitable wagon series
The transport of exceptional deliveries can be provided by e.g. wagons of type Kns, Res, Smmps, Uaaik.
Contact
Transportation of Exceptional deliveries

Hulíková Jiřina
ČD Cargo, a. s.
(+420) 972 244 134
Křižíkova 552/2
972 244 525
18600 Praha 8
725 719 875
Jirina.Hulikova@cdcargo.cz
Transportation of Exceptional deliveries

Kratochvílová Eva
ČD Cargo, a. s.
(+420) 972 244 134
Křižíkova 552/2
972 244 526
18600 Praha 8
725 820 151
Eva.Kratochvilova@cdcargo.cz
Files to download
---
| | |
| --- | --- |
| | Infoline |
+420 972 242 255
info@cdcargo.cz
monday - friday
8.00 - 16.00 hour
---

Customers
service centre
monday - friday
7.00 - 18.00 hour